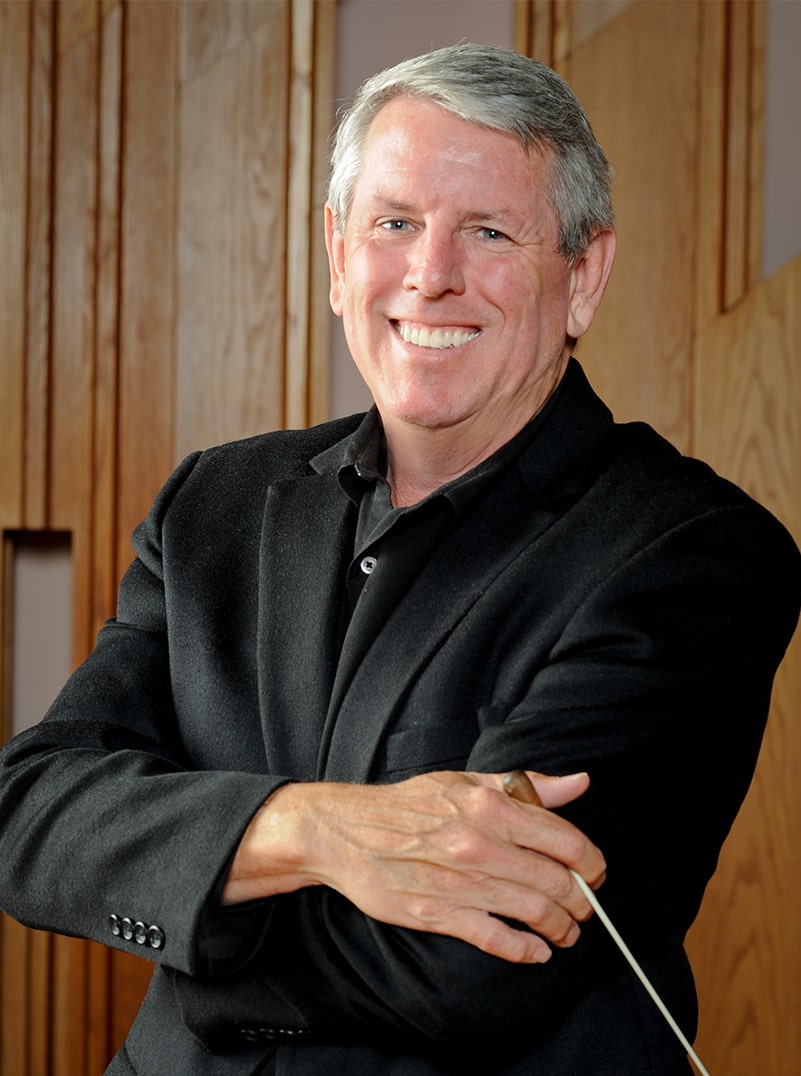 Thomas Neenan, Board President
Thomas Neenan founded the Music Guild in 1985 and co-founded The Chamber Orchestra at St. Matthew's the same year. As Music Director and Conductor from the time of the orchestra's founding until 2017, he conducted more than 300 concerts, commissioning and premiering more than thirty-five works by composers Christopher Tin, Richard Danielpour, David Conte, Miklos Rozsa, David Newman, Tom Pasatieri, Tarik O'Regan, Paul Chihara, Roger Bourland, Ethan Helm, Dante De Silva, Maria Newman, Mary Lou Newmark, John O'Reilly, Dwayne S. Milburn, Gerald Near, Ross Wright, and others. With the orchestra, he produced a CD, "Music from the Left Coast," in 2013, featuring the Soweto Gospel Choir of South Africa. In 2017 he retired as Music Director and Conductor of the orchestra and transitioned to Board President of the Music Guild.
For more than thirty years Tom has been a featured speaker on the Los Angeles Philharmonic's "Upbeat Live" pre-concert presentations and for the Philharmonic's Organ Recital Series. Since 2021, he has been a program annotator for the LA Philharmonic. He has lectured and written program notes for the New West Symphony and several other arts organizations in Los Angeles, and enjoys presenting "Liner Notes with Tom Neenan," a pre-concert lecture before all Music Guild events from November to June each season.
From 1991 to 2021 he was Lecturer in Music History and Theory at California Institute of Technology (Caltech). At Caltech he taught Music History, Music Theory, and courses devoted to special topics, including Jazz History, The Orchestra: Its History and Conductors, Opera History, Major Figures, Choral-Orchestral Literature, Chamber Music, and other course subjects. He was honored by the Associated Students of California Institute of Technology with an ASCIT Outstanding Teaching Award.
Tom holds a B.A. in Organ Performance from California State University, Northridge, and an M.F.A. in Performance Practices from UCLA, where he was honored with an Outstanding Academic Achievement Award and was a prizewinner in the Atwater-Kent Performance Competition. During his time at UCLA, he was Teaching Assistant and Assistant Conductor of the UCLA Men's Glee Club, most notably during a three-week tour of Japan.
From 1981 – 2017 he was Music Director at The Parish of St. Matthew, Pacific Palisades.  He led a St. Matthew's Choir tour through Central Europe during the summer of 2003, presenting concerts in Budapest, Prague, Leipzig, Dresden, and Berlin. The choir toured England, Wales, and Ireland in July 2006. In August 2011 they served as Choir in Residence at Winchester Cathedral (UK) for a week and were the resident choir at Durham Cathedral (UK) for a week in the summer of 2016.
Tom is married to Robin Guyett-Neenan, also a co-founder of the orchestra, who has been a member of the cello section since 1985. They live in Encino and have a daughter, Heather, who is Lead Grant Manager for Caltech's Department of Physics, Mathematics, and Astronomy.
 

Catherine Carrick

Catherine joined the Music Guild Board in 2015. As Secretary of the Board, Catherine works closely with Board President, Tom Neenan, and Board Treasurer and Chair of the Finance Committee, Gordon Dressler, in all aspects of officially documenting the business and activities of the Music Guild. Aside from these responsibilities, Catherine's primary focus has been on subscriber development.

Catherine was raised in Atlanta, Georgia and Paris, France. She received a Bachelor of Arts in French and Studio Arts from Sweet Briar College in Virginia and a MA in French from Middlebury College in Vermont. Catherine has been in academia for the past 21 years, teaching French in E. Rivers Elementary School in Atlanta and is currently a lower and middle school French teacher at Viewpoint School in Calabasas, CA.

Catherine lives with her husband John in Pacific Palisades, CA.
Mary Libbey Conley
Mary joined the Music Guild Board in 2014 and for the past 10 years has been a valued liaison between the Board and the Music Guild's subscribers. She has worked tirelessly with subscription campaigns and patron events.
Mary was raised in Southern California and graduated with a BA in Psychology from Loyola Marymount University. She earned a MA in Psychology at California State University, Los Angeles and a Ph.D. in Educational Psychology at the University of California, Santa Barbara. She spent time in academia at San Diego Mesa College and at Mount Saint Mary's University in Los Angeles and as an independent educational consultant to the children's television industry. Mary then became a Vice President in the non-profit Coalition on Children and Television, lecturing, providing reports to the FCC, and fundraising for public interest events.
Mary spent almost 3 decades with Capital Cities/ABC as the Director of Broadcast Standards and Practices for children's programs and also worked on medical and psychiatric themed movies and primetime series. After the acquisition of Capital Cities/ABC by The Walt Disney Company, Mary worked in her same capacity as Director of Broadcast Standards for many of Disney's animated and live-action children's series.
Mary and her husband Bryan live in Pacific Palisades, CA.
Pablo Corá
Pablo Corá is a rare hybrid professional. He is both a professional singer by training and a Certified Public Accountant by trade. He currently serves as the Director of Finance for the Los Angeles Master Chorale, one of the resident organizations of the Music Center of L.A. County. Having started his career at KPMG LLP in 2012, Pablo has over ten years of nonprofit public accounting experience. He holds business and accounting degrees from California State University Northridge, and music degrees from Ithaca College and Indiana University.
Originally from Buenos Aires, Argentina, Pablo has sung both as a soloist and chamber musician in a wide variety of repertory ranging from early music and oratorio to twentieth-century opera. He has performed at the Argentine Colón Theatre, Amsterdam Concertgebouw, Lincoln Center, Weill Recital Hall, Dorothy Chandler Pavilion, Disney Concert Hall, and the Brooklyn Academy of Music. He has sung with the Los Angeles Philharmonic, Los Angeles Master Chorale, Los Angeles Chamber Singers and Cappella, and Musica Angelica Baroque orchestra. He is also a founding member of the award-winning Concord Ensemble. He has collaborated often with "period" ensembles such as the Folger Consort, Piffaro, Camerata Pacifica Baroque and the Catacoustic Ensemble.
His recording credits include works for the label Harmonia Mundi with Paul Hillier's Theater of Voices and The Pro Arte Singers, Dorian Recordings with The Concord Ensemble and Piffaro, Rubis Canis Mundi (RCM) with the L.A. Master Chorale and Los Angeles Chamber Singers & Cappella, Gothic Records, Nonesuch and Clarion labels. He was featured in the 2007 Los Angeles Chamber Singer's Cappella GRAMMY© winning recording: Padilla: Sun of Justice.
Anne Costin
Anne joined the Music Guild Board of Directors in 1988, three years after the organization's founding. She was President of the Board from 1991 to 2001.
Anne has been intimately involved since the early formation of the Music Guild in every aspect of its growth and financial soundness. She helped guide the Music Guild in applying for and receiving tax-exempt status as a 501(c)(3) nonprofit corporation and was a driving force behind the Guild's initial community outreach programs through the Guild's Southern California Music Outreach. She was a founding member of the Music Guild's Finance Committee and continues to be active with strategic analysis and planning for the organization.
Anne brings to the Board three decades of global investment and corporate banking experience. She has over a decade of academic experience as a professor in the Finance and Economics Department of Columbia Business School in New York and The Amsterdam Institute of Finance in the Netherlands, where she taught executives from four continents.  She has taught private courses in international finance in Europe for financial institutions and has also been an Independent Director on two New York Stock Exchange-registered funds for the past 19 years.  
A native of North Carolina, Anne received a BA from UNC-Chapel Hill and a PMD degree from Harvard Business School.
Anne has a life-long love of music and enjoys attending many orchestral and choral performances in venues all over the world. She is honored to be a part of the Music Guild success story. She lives in Pacific Palisades, CA and has two married children, one on each coast.
Sarah Doering
Sarah joined the Music Guild Board in 2021. She worked closely with Board President Tom Neenan and Music Director Dwayne Milburn in the selection of San Francisco composer, David Conte, for a major new commission premiered in our June 2023 concert.  In addition, Sarah collaborated with Mr. Conte in the selection of poems for his new work, "Hymn To Life".
Sarah grew up in Lake Forest, Illinois and graduated from Barnard College in New York City with a degree in economics. She had a 24 year career as a regional sales manager for the western half of the US for a wholesale manufacturer of bakery products.
Sarah serves on the alumnae board of the Ethel Walker School in Simsbury, Connecticut. She is also is on the board of the Bay Area Rehabilitation Center, Inc. in Santa Monica and is an Emeritus board member with the CLARE|MATRIX Foundation in Santa Monica, a treatment center for people suffering from substance abuse.
Sarah resides in Malibu and can be found during summers at the beloved family cottage on Lake Huron in Canada.
Gordon Dressler
Gordon has served as Chair of the Music Guild's Finance Committee continuously since 2014, and as Treasurer continuously since 2020. He brings to these positions – as well as his overall service as a member of the Board of Directors – his experience and skill as an aerospace engineer having parallel responsibilities for hands-on management of staff personnel and program/contract budgets in excess of $5 million. He takes great pride in having worked on programs that directly and positively impacted the defense of the United States and her allies.
Gordon was born in Texas, spent his early childhood in Tennessee and his teens in Florida. He is a true "child of the space age", earning a BS degree from the Florida Institute of Technology and a MS degree from the California Institute of Technology. Gordon retired from a 36-year career in rocket propulsion engineering and management and is delighted he now has time to volunteer to work with fellow members of the Board of St. Matthew's Music Guild.
Gordon lives with his wife Karen in Manhattan Beach. Their daughter, Lauren, began graduate school for her PhD in Physics and Cosmology in 2023.
Patricia Massey
Clarinetist Patricia Massey has performed for over 40 years with numerous orchestras and ensembles. She is in her twenty-seventh season as Principal Clarinetist with the Chamber Orchestra at St. Matthew's and in her twenty-second season as Orchestra Manager. She also is a member of the Opera Santa Barbara Orchestra and the Chamber Orchestra of the South Bay and is Principal Clarinetist with the Downey Symphony. In addition, Patricia performs regularly with a number of other ensembles in Southern California and is on the summer music faculty at Idyllwild Arts.
Patricia plays an important role as the liaison between the Music Guild Board and the orchestra. As the Orchestra Manager, Patricia works with the Music Director and the President of the Board in planning the overall season and the repertoire; contracts all the orchestra members for every concert; oversees the orchestra budget; and manages all rehearsal schedules.
Patricia is active in community outreach in schools through her involvement with Campus Concerts and the Downey Symphony Quintet.
Patricia lives in Woodland Hills with her husband Duncan, who is also a member of the Chamber Orchestra at St. Matthew's.
Cynthia Alden Smith
Cynthia joined the Music Guild Board in 2015 after many years involvement in the music program at St. Matthew's Church. She has been an active chorister since childhood, singing under nationally recognized choral directors in the Episcopal church. Cynthia brings her deep love of ensemble singing and fine musicianship to the SMMG.
Cynthia has been active in industry and trade associations and clubs throughout her career. She has served on the Boards of Directors of nearly every professional and volunteer organization in which she's belonged, from advocating for legislation at the state and national level to local marathon running and dog performance clubs.
A native of Connecticut, Cynthia graduated cum laude from Mount Holyoke College and moved to Los Angeles in the mid-70s. Her professional career began in medical and biological research at the House Ear Institute and UCLA. She transitioned to the entertainment industry in the early days of cable television in Los Angeles. She spent a decade at USA Networks where she rose to Regional Vice President, with overall responsibility for the distribution, revenues, marketing and local ad sales support in a 14-state region. After USA, she worked with several interactive TV technology start-ups as a consultant. After leaving the cable industry, she founded her current professional organizing business, Your House In Order.
For several years, Cynthia has brought her organizational skills to the "front-of-the-house" experience for SMMG concert patrons, graciously and expeditiously checking in ticket holders and those purchasing tickets on the patio prior to concerts.
Cynthia lives in Venice with two highly trained standard poodles.
Dorry Tooke
The Music Guild has a strong commitment to community outreach and Dorry oversees all the Music Guild's outreach activities. These are live events throughout the Los Angeles area, in all genres of music, performed by professional musicians. The outreach program included 14 live events during 2022 and is on track to triple this number in 2023. Performances take place at multiple LA Family Housing centers, shelters for female victims of domestic abuse, Neighborhood Youth Association, and Bread & Roses Café in Venice.
Dorry formerly served for two years on the Board of the Greensboro, N.C. Symphony Orchestra. She also served for 10 years on the Greensboro Symphony Guild Executive Board. In Greensboro, she was involved with major fundraising for the Symphony, youth outreach programs, the Greensboro Youth Orchestra, and concerts for 12,000 public school students annually.
Dorry was born and raised in Ottawa, Canada. Her professional career was as a Physical Therapist as well as an educator in her native Canada.  In the US, she worked in the neonatal intensive care unit at St. John's Hospital in Santa Monica, CA and had a private pediatric Physical Therapy practice. Dorry has an MA in Special Education from UCLA. She lives in Santa Monica with her husband Michael.
Images courtesy of Chuck Gardner Photography