THE CHAMBER ORCHESTRA
The Chamber Orchestra at St. Matthew's was established in 1985 by a group of professional musicians whose desire it was to rehearse and perform a broad spectrum of music for chamber orchestra in an intimate and acoustically vibrant setting. Bringing fellow musician friends in to rehearse and perform, the orchestra's first several seasons led to the realization that the West LA community would support a subscription season of challenging and interesting music played by a professional ensemble in Pacific Palisades.
Thirty-eight years and some 300 concerts later, the orchestra's parent organization, the St. Matthew's Music Guild, has become one of Los Angeles' musical success stories, with more than 150 subscribing households, an impressive season of subscription concerts, and an extensive music outreach program. The critically acclaimed orchestra counts as its regular and long-term members some of the finest freelance musicians in Los Angeles, who regularly appear in film and television, Grammy award-winning recordings, and with other top-level orchestras in the city.
The orchestra concerts are augmented by guest soloists and ensembles. Recent performers have included Chanticleer, Voces8, Petronel Malan, Inna Faliks, Movses Pogossian, and David Kaplan, Robert Thies and the David and Junko Garrett Duo.
The orchestra's second CD, "Music from the Left Coast," brought together four world-premiere recordings of music commissioned by St. Matthew's Music Guild and premiered by the Chamber Orchestra at St. Matthew's. The album includes music of Ross Wright, Dwayne S. Milburn, Ola Gjeilo and Grammy Award winner Christopher Tin and is available through Spotify and Apple Music.
A testament to the level of commitment by our subscribers to the orchestra and the Music Guild is the fact that when the Covid-19 pandemic decimated the arts community in early 2020, Music Guild subscribers whole-heartedly endorsed the Music Guild Board's decision to pay the musicians for the remaining contracted concerts. Further, our loyal subscribers enthusiastically subscribed to the 2020 – 2021 season knowing full well that live concerts were unlikely. The Music Guild hosted monthly "Second Friday" virtual concerts on Zoom featuring members of the orchestra and other professionals from the area. As a result of our subscribers' enduring support, and with deep gratitude, the Music Guild has commenced the 2023-2024 season in a strong financial position and  looks forward to continuing to grow our subscriber base.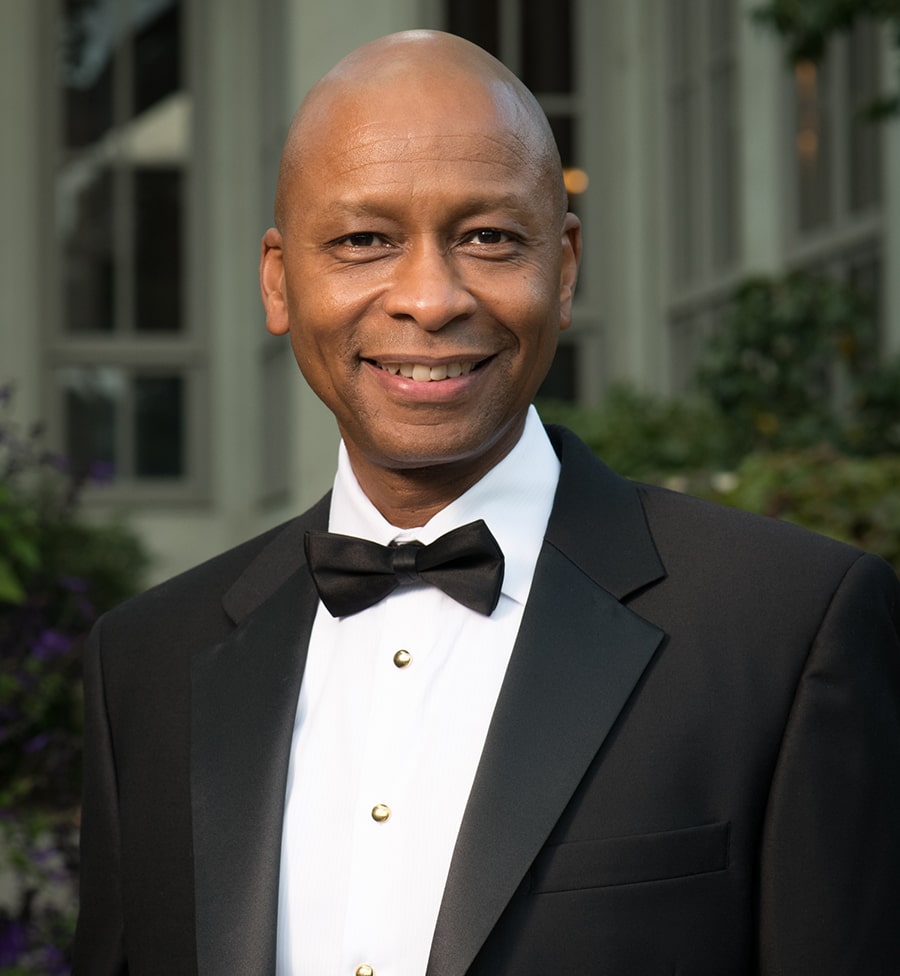 MUSIC DIRECTOR AND CONDUCTOR
Dwayne S. Milburn
Dwayne S. Milburn was born in Baltimore and came to Los Angeles in 1983, earning a Bachelor of Fine Arts degree in Composition and Music Education at UCLA.
After graduation from UCLA, he was Director of Cadet Music at West Point and starting in 1990 attended the Cleveland Institute of Music, earning a degree in Orchestral Conducting. In 1993 he joined the U.S. Army, serving as Associate Bandmaster of the Continental Army Band and the U.S. Army Band "Pershing's Own." In 1999 he was named Director of the U.S. Army Europe Soldier's Chorus in Heidelberg, Germany, and later, Commander and Conductor of the Army Ground Forces Band at Fort McPherson, Georgia.
From 2004–2009, while on leave from the Army, he completed a Ph.D. in Music Composition at UCLA, during which time he was Assistant Conductor of The Choir of St. Matthew's Parish and Composer-in-Residence for St. Matthew's Music Guild. His composition, Water Scenes for Clarinet and Chamber Orchestra, may be heard on the orchestra's CD, Music from the Left Coast.
Upon reentering the Armed Forces in 2010, he directed the U.S. Army Field Band and was Army Bands Liaison Officer to U.S. Army Central Command in the Middle East. Having achieved the rank of Lieutenant Colonel, he recently retired as Commander and Conductor of the U.S. Army Europe Band and Chorus in Sembach, Germany.
Units under his direction performed at the 2016 Royal Edinburgh Military Tattoo and D-Day commemorations at Normandy, have toured in France, Italy, and the Netherlands, and have appeared at hundreds of Army-sponsored events throughout Central Europe, the Balkans, Baltic States, and Turkey.
Upon his retirement he was awarded the Legion of Merit – an award that is given by Presidential Proclamation for exceptionally meritorious conduct in the performance of outstanding services and achievements.
Dwayne is active as a composer, conductor, and adjudicator. He has received commissions from the instrumental programs at UCLA, University of North Texas, Indiana University of Pennsylvania, and the University of Wisconsin-Milwaukee. His choral and wind ensemble works are published by Alfred, Kjos and Ludwig Masters.
Images courtesy of Chuck Gardner Photography